The Team
Chad Kruegel (a.k.a. Crash!)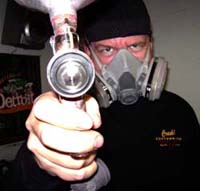 Chad was hanging out in the garage and turning a wrench at the age of three. He is a self-made, second generation custom paint and body shop owner. His first real job was as a paint and body guy at Stone Valley Paint Works, his father's own shop. He executed his first full vehicle customization at the age of 18, a '78 slammed yellow malibu with custom paint, window tint and a killer interior, which he still owns today.  This was the true beginning of his success, as the car won multiple awards locally.  During college he gained experience in the business end of a production body shop while employed as a service technician.  After obtaining his B.A. in Graphic Design from Savannah College of Art and Design (SCAD), he worked for seven years as a graphic artist creating logo apparel for a licensed Harley-Davidson company.  Chad answered his calling soon after and established Crash! Customs and has gained 10+ years of experience as a sole-proprietor, having been involved in all aspects of his business.  The name for his newly created company came naturally.  Having always been a daredevil with bikes and cars, he earned the nickname "Crash!" at a very early age.  It was only fitting that he carry his childhood nickname into the business, as he is to this day still a daredevil when it comes to creating one of a kind, edgy, customs for his clients.
He was commisioned in 2000 as an independent contractor for the Corporate Harley-Davidson Restoration Department for paint and body restoration on their bikes for the new museum.  Currently, some of his work can be seen on display in the museum.  He continues to have a strong working relationship with the company.
Crash! Customs has developed a strong local and growing national presence as a top-quality customization shop, having completed projects for customers in Arizona, California, New Mexico, Nevada, Oregon, Minnesota, Illinois and Wisconsin.  In addition, an emerging international presence has been established outside the states in Canada.  The company has built a solid repeat customer base and continues to grow every year.
Chad is an active participant in the local and national car community and has won multiple local and national car show awards.  He is a member of Goodguys, and a lifetime member of NSRA.
Kristen Kruegel (a.k.a. Stitcherella)
She is the lady behind the man.  Kristen entered the scene shortly after the company was established and has been building the infrastructure ever since.  She currently handles all aspects of the business outside of what happens in the shop.  (However, on many occasions can be found lending a hand there as well!)  As demand for Crash's work has grown, she has taken on all the administration, purchasing, human resources, accounting, marketing, website and social media responsibilities within the company. In addition, over the years she has developed her sewing craft and now creates custom upholstery for anything cool that rolls or floats. The business provides a perfect outlet for her free-spirited, creative side and also the means to apply her entreprenuerial mindset. Working side-by-side with her man everyday, she enjoys everything everything except getting really dirty at the shop from time-to-time.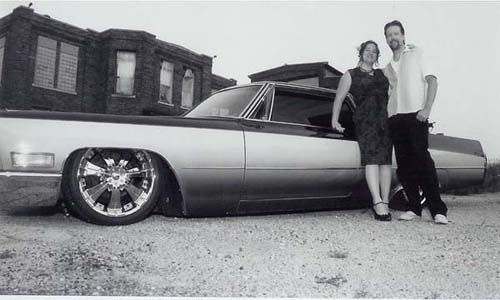 Bob Kruegel (a.k.a. The Godfather)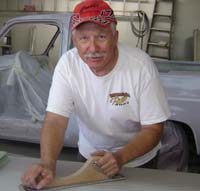 In typical car guy form Bob was educated on the small custom car magazines of days past, then graduated on to learning the stuff in the full-size mags. He graduated from the University of Wisconsin, Milwaukee with a business degree in 1972. Over the years he gained a wealth of knowledge working his way through various positions in the automotive field:  auto insurance claims adjustor, assistant body shop manager, sales manager at two modern auto parts recyclers and ultimately body shop manager. He served as a Wisconsin State NSRA Rep for 18 years and is a lifetime member of NSRA.  He established his own custom auto painting business in 1982 called Stone Valley Paint Works, which he retired from after ten successful years in business. He then moved to sunny Arizona. It didn't take long for him to pop back out of retirement once the local car guys learned of his abilities for doing panel adjustments, touch ups, small projects and detail work which he did as much for pleasure as he did for profit. With Crash! Customs recent relocation to Lake Havasu City, after 47 years of experience, life has gone full circle, and Bob is now working for his son doing what they both love to do - creating automotive works of art and giving customer's a reason to smile.
To best depict this lifelong father-son-car relationship in Bob's own words, is an auto related remembrance:
"Let's go back in time about thirty years ago. I remember a very small incident that only a car guy dad could have with a car guy son. Picture a perfect summer day in Wisconsin, the sky was blue with fluffy white clouds, the temperature was in the mid 80's.  Chad and I finished washing my Corvette yellow 1954 Ford Sunliner full custom. We walked around the car a few times checking for water marks and bugs on the '53 Desoto grille teeth, and the '56 Packard frenched taillights. We both decided that a short ride was in order. You know the type—rolling down the road on a perfect summer afternoon looking cool and waving to the neighbors. Then at that moment I got this great idea. Chad is 8 years old and it is about time for him to have the ride of his life! He had no idea what I was thinking. HECK, I had no idea of what I was thinking. As we were rolling down Hardscrabble Road in the countryside. I asked Chad if he wanted to drive the car that he helped me restore. I could tell by the look on his face he was game.  I told him to slide over and sit on my lap.  I worked the gas, brake and clutch pedals and shifted the 3 speed column shift, with the overdrive off. Well, within a nano second he was on my lap steering that big, old steering wheel. He had a grin on his face that showed more teeth than the Desoto grille had. In that moment I discovered my son was a true car guy. I get teary eyed now just thinking about it. I told Chad that he couldn't tell anyone about our ride, because most sane people would view me as an irresponsible Dad, possibly an abusive one by today's crazy standards.  There you have it, that one breathtaking moment in life, when a father and son haven't said one word, but each knew what the other was thinking. That day changed my life, and set the course for Chad's life forever. I have never told anyone this story, but I remember it as if it happened yesterday. I am so thankful for that blessing!"
Bob has been a major influence on the success of Crash! Customs and we were so proud to have him working by Chad's side for the last several years of his life. R.I.P. BOB 09/06/1945 - 09/28/2016.