49 Merc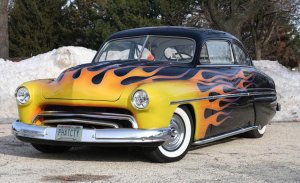 49 Mercury Coupe Custom. Power steering, front disc brakes, dual master cylinder with remote fill, all new wiring, 350 Olds 350 Turbo, new 100 amp alternator, nosed, decked, shaved, rounded hood/door corners, custom pearl flames, period correct pin striping.
Caddy air cleaner painted to match, '51 Chrysler New Yorker grille, frenched headlights and taillights, 3rd brake flush under back window, louvered hood, chrome '51 Caddy hubcaps, Lee's taillight lenses, shaved directionals (now in headlights), fresh tuck n roll interior with matching trunk, shaved dash with Haneline 5 in 1 gauge, new exhaust with cherry bombs, excellent glass, excellent chrome/stainless, autographed by George Barris on the firewall. Looks right from every angle, drives perfect. Everything works, go anywhere. Known history, originally from South Dakota, solid everywhere. James Dean would be jealous!  Asking $54,500 obo. Call Mark 262-391-2959.
Disclaimer:  Private party listing.  This online ad not sold by Crash! Customs.